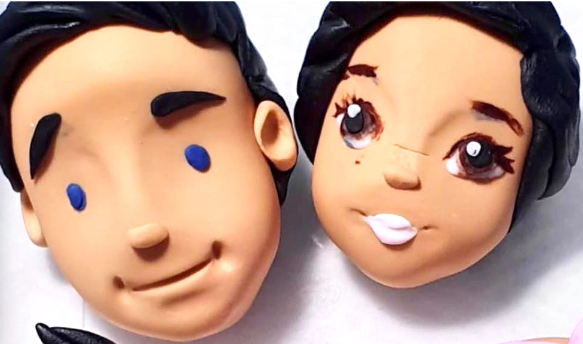 Everything about Sinsations is simply sensational from Matilda"s professional yet caring customer service to Radhika's amazing sculpting, delicious combination of flavours, fillings and sauce accompaniments and not forgetting the attention to detail in the presentation and packaging. Radhika is not only tremendously talented but an incredibly generous soul and her company is a reflection of her compassionate character.
The amazing gluten free chocolate cake with butterscotch sauce made my first birthday in Singapore a memorable one. I can't wait to taste her next creation!!
As a regular customer, I recently ordered a custom cake from Sinsations for my daughter's birthday. Radhika has been my go to person for my cake orders till date and I am happy to recommend them for cakes. For anyone looking to create magic in their celebrations, Sinsations is just a call away!! A big thank you & hugs, dear Radhika & Matilda for this awesomeness ..keep it up!
Thank you Radhika for your amazing gluten free cakes! After being told by countless bakers that fondant is not possible with gluten free cakes, you are the first person to fulfill my son's dream of having a custom made GF fondant cake. It came beautifully wrapped, looked amazing, and was one of the softest and delicious cakes I have ever eaten! It was perfect and so beautiful to look at!!
All of us loved the cake, it was delicious & light - not too sweet. The whole process was so easy, and extremely efficient. Thank you for accomodating my date change! I can't wait to order my next cake from you & your team!
PS: I didnt realize at the time that some of the proceeds went to charity. So happy to hear that it does.
I absolutely love Radhika's cakes - she is my go to person for special occasions. This is the amazing cake she made for my birthday...delicious, not too sweet (as I requested), and wonderfully paired with complimentary berries compote. I highly highly recommend her!
We order our cakes through Sinsations for all our family events! Great customer service, quick and professional responses and they really listen to what you want! Very creative approach and most importantly… great cake! Great for children
I chose Radhika for my baby's first birthday 🎂 knowing she is an expert in making all sorts of cakes. Since my baby is allergic to cow milk, she made a lemon sponge cake (with coconut milk) and berry compote filling) and it turned out to be delicious!! Super moist even one day after!
I had ordered a cake from Radhika based on her Instagram page which showed such a beautiful selection of customised cakes and it really exceeded my expectations. From start to finish their service was excellent and Matilda always responded to me really quickly and gave me updates 🙂 The flavours they offered were very wide ranging and there's a lot of delicious sounding options and I understand that they can cater for things like sugar free, etc. which is super helpful. The cake itself was amazingly detailed and my friend really loved it - everyone couldn't bear to cut into it. I've ordered customised cakes elsewhere before and this was definitely the best one yet.
Radhika is my go-to person to order bespoke cakes for special occasions. I have been ordering cakes from her for few years now and it has never failed to impress me. What makes it special, is the little personal touches that she adds to the design & flavours like amazing compotes, that makes the overall experience of ordering through Radhika all the more amazing. Radhika also helps to accommodate any dietary and health restrictions without compromising on the flavours. And the overall ordering process and cakes arriving in beautiful packaging with a lovely note is a plus. A strong patron of cakes from Sinsations by Radhika
Can't get enough? Read more reviews here